Growing Geneva company Pretzel Logic looking for a new home | Company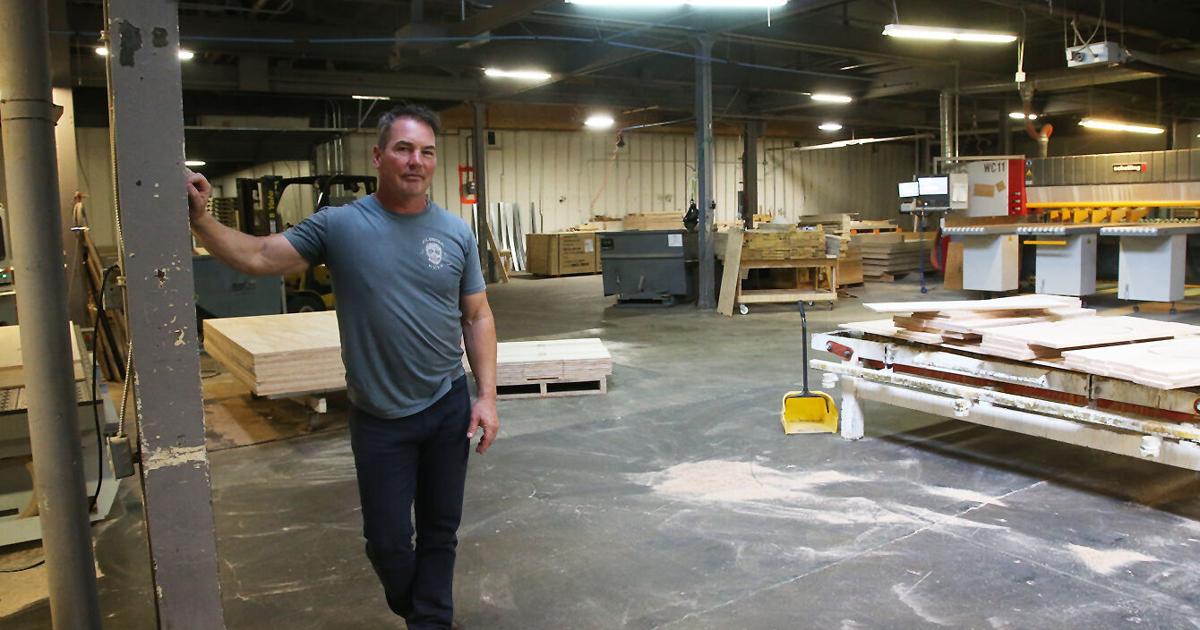 GENEVA — Jeff Calhoun visited the Geneva Enterprise Development Center in 2020 with a CNC cutting machine and an outdoor furniture manufacturing project.
Two years later, that company, Pretzel Logic, grew into a business with nearly 20 employees.
While the company still makes furniture, its product line has exploded — from shipping containers for U-Haul, to large laminated pieces for the Macintosh, to modular fruit bins for harvesting fresh produce, as well as miscellaneous parts. for other customers.
"I had no idea we would grow as fast as we did," Calhoun said.
There have been some growing pains for Pretzel Logic, however, and they're not necessarily tied to the company itself, but to where it lives – the GEDC.
The aging building, owned by the city's Industrial Development Agency, is the former headquarters of American Can Co., which operated at the Genesee Street site for nearly 100 years before closing in 1989. At one time, it was one of the largest employers in Geneva.
IDA has owned the GEDC since 1994, according to Geneva Historical Society records, but has struggled to maintain the facility, which has been converted into an incubator for start-ups. The goal was to provide space for fledgling businesses and scale them to larger, more appropriate spaces.
Sometimes this expansion occurs at the GEDC. Sometimes companies take the next step and find their own facilities.
That's what happened with Real Eats. The fast-growing Geneva-based meal delivery company recently vacated a large space at GEDC, where it got its start, for a facility formerly occupied by Cheribundi off Routes 5 and 20 in the city.
In turn, the cycle of the GEDC incubator continues.
FLX Provisions, a catering company with several establishments in Geneva, moved into the kitchen area where Real Eats prepared its meals.
The eviction notice is coming
Pretzel Logic is also left with the need for a new home. However, unlike Real Eats, the circumstances are a bit different.
Earlier this year, Pretzel Logic received a letter from IDA's law firm advising that the company's lease, which expired on May 31, was not being renewed. The IDA claims it gave him 90 days, but Calhoun said when he got the letter, it only gave him 45 days to leave.
Calhoun asked the agency for more time, and the IDA board agreed to extend his lease for another three months, until the end of August.
The imminent departure of Pretzel Logic is relatively bitter. In a recent interview, Calhoun provided a litany of complaints to GEDC, which is managed by Rochester's Webster Property Management. This company replaced the former property manager, Massa Construction of Geneva.
Calhoun said he had struggled with both management companies, at one point refusing to pay his monthly lease due to problems with renovations which he said was only half of what had been agreed with IDA.
"After the Websters got the building management contract, we went back and forth with them to complete the scope," Calhoun wrote in an email. "Needless to say, it was a losing battle, so to make our lives here easier, we gave in and paid the rent on account. Since then, we have religiously paid our rental utilities on time, despite having no heat, working exit doors, clean water, major roof leaks, potholes in the floor in concrete, sewer backups in our offices, loose live wires hanging from the ceiling, and the list goes on."
Difficult to find space
Calhoun is looking for a new location for his business, but has yet to find a suitable location for Pretzel Logic and another business he plans to start. There is nothing in Geneva, he says, so he looks beyond the city.
"I could go to the city of Rochester, but I won't have any more employees," he said.
Calhoun said his company pays $20 to $25 an hour for some positions and up to $45 an hour for more skilled work. It would be a shame, he said, to lose such well-paid jobs in Geneva.
He prefers to stay at the GEDC, or at least in Geneva, to be able to keep his employees.
Calhoun said they have been good tenants at GEDC, using as many local businesses as possible inside the facility and in the community.
"We use everyone local," he said. "I pay the rent for Food Justice (the non-profit gleaner/distributor) and let anyone who needs a forklift use ours. We have been a good neighbor to everyone.
IDA leader: expansion not appropriate for GEDC
The president of IDA in Geneva, Anne Nenneau, described the situation as a sensitive subject.
"We realize Jeff is unhappy with the move and is still looking to get new space," she said.
She called the eviction notice "unfortunate".
"While technically correct, I think the notice should have indicated that we are not renewing their lease," Nenneau said.
However, she also believes that the IDA did their best to accommodate Pretzel Logic's request for additional time to find another location.
"We gave three months' notice before the end of the current lease, then a three-month extension to give them more time to find new space," she said. "That extension is month-to-month, with a review after three months, so I don't agree that we're kicking them out. From what I see, we are attentive to their difficulty in finding space.
"The management company ordered a replacement radiator which, when received, was left uninstalled due to space access," she said, noting that work is now underway for the 'fall.
As for Pretzel Logic's expansion to the GEDC, Nenneau said that's not plausible.
"They asked for more space last summer and, as we said before, making the necessary changes to meet their needs was not possible at the time," Nenneau said. "Even now, it appears the facility is not well suited to their current operation as it ends up impacting other tenants and the physical space itself.
"IDA's stated goal is to attract businesses to the city and help them grow through a number of incentives," she continued. "One of the tools we offer is the low-cost space available at GEDC. IDA was delighted to welcome Pretzel Logic to the GEDC as a start-up. So much so that we approved $25,000 in building upgrades to meet space requirements for their stated business plan. Somewhere along the way, their business plan changed, and the scope and scale of their operation shifted to the point that the space was no longer suitable for their operation. This caused stress on the building itself and challenges for other tenants in the building. Incubators like the GEDC are designed to support businesses throughout start-up, as well as growth and stability. As Pretzel Logic grew, it was clear that they were no longer suitable for the space. The IDA team met with representatives of Pretzel Logic to work on identifying other spaces locally that could meet their needs. Unfortunately, we currently have no space available to do so. … Our main objective is to maintain and develop businesses in the city, but we can only offer the spaces that are available.
Nenneau acknowledged the city's lack of manufacturing space for growing companies such as Pretzel Logic that want to stay in Geneva.
"It seems like the rental available for any larger space is out of town," she said. "However, we believe that new businesses that start through the GEDC incubator and can stay in the county are always a win. RealEats' recent move is a great example of this. We had property available in the city that would allow a new business, once it is past the start-up phase, to construct a new building. The Industrial Park provided this ready-to-use property for many years, but was recently sold. Nardozzi's future move there -bas is a great example.
Nardozzi, the contractor for the city's streetscape and Routes 5 and 20 project, is in the process of relocating from a location on Genesee Street next to the GEDC to undeveloped land in the city's industrial park. .
For Calhoun, the search continues. He's looking for 30,000 square feet, about 8,000 more than he currently has at GEDC.
While Nenneau understands Calhoun's concerns, she believes the IDA played a positive role in Pretzel Logic's success.
"IDA takes the responsibility of developing business opportunities very seriously, and we work hard to ensure that every opportunity is followed up and assistance is provided to help businesses thrive in the city," he said. she declared. "We are fortunate to have assets like GEDC to deliver a new business like Pretzel Logic, and I believe we have supported their efforts as a business. We hope that what we have proposed has been useful to them. We also feel that we have treated them fairly and wish them well in their next steps.