INSTALL, based in Washington, DC, adds critical industry updates to training programs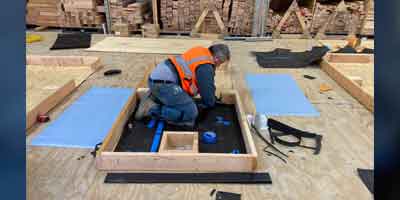 INSTALL, the flooring installation training and certification company in Washington, D.C., will update its resilient flooring and carpet certification standards to reflect critical industry advances in methods installation and material preferences.
One of the biggest changes to INSTALL's resilient flooring certification standards is the increase in mockup size. To accommodate the huge growth in LVT and LVP installations, which are an important component of certification, INSTALL has doubled the size of the space provided for tile and plank installations, allowing installers to have more flexibility. practice space. For the installation of stairs, the number of steps provided for training has also been increased from two to four. Additionally, to meet commercial demand for bonded flooring, the new bonding certification mockup has doubled in size and incorporates additional seams and edging around the carpet. Bonding certification standards also include evaluation of substrate preparation and material cut, fit and jointing.
Another important feature of the new resilient flooring certification standards aims to provide installers with a deeper understanding of vinyl sheet weld transitions, particularly seam transitions. Installers now perform an east-to-west welding transition that meets a north-south welding transition, in addition to accent bead welding.
Another critical update to the course is to incorporate training for the more difficult basic carpentry installation, which replaced the previous basic vinyl cove installation. Instructors doubled the drain cutouts and added three more pipe intrusions for installers to learn precise cutting techniques to suit plumbing projects in commercial or bathroom installations. Additionally, due to COVID-19 safety guidelines, Personal Protective Equipment (PPE) knowledge and compliance are now part of course certification requirements.
Permanently changing carpet installation standards reflects a particularly difficult challenge. Installers should learn how to make a 90 degree, mitered, metal transition to gain the expertise and skills of experienced and trusted professional installers.